Lichen - AGGV

Mobile Gallery / Tiny Artists' Residence
Art Gallery of Greater Victoria (AGGV)
2020
Project description from
Art Gallery of Greater Victoria's magazine
(written by Alexis Hogan)
lichen is a mobile programming and project space not limited to foundations, nor the traditional construction of an art gallery or artist-run space. The initial intention for this roving structure is for it to be responsive to site, place-based and ecologically-centered art practices and community. lichen aims to be a decentralized arts creation, programming, and gathering space conceived as an adaptable multi-purpose entity, much like its namesake lichen.


Its potential lies in its responsiveness to transform: be that into an infoshop, library, free school, studio space, gallery, kitchen, critical reading group, skill-share venue, programming space, living space, incubator, laboratory, organizing space, DIY healthcare space, dark room, listening space, harm reduction space...but it is always, already a site for critical creative response.


lichen is designed simply in order to be responsive to many differing needs as a solar-powered, modular, adaptable structure on wheels. In imagining how the space will respond to our current needs and shared contexts, lichen, like its namesake, embraces the slowness, and dormancy that the current surrounding environment encourages.
In terms of the actual structure, we decided on a cedar and galvanized metal finish - something that would survive the wet Pacific Northwest climate and travel on forest roads. It is equipped with two solar panels and a bank of batteries.
The interior is a birch panelling, with a very basic composting toilet (bucket + sawdust), and an equally simple sink (bucket + foot pump). The kitchen cabinet and toilet are both removable, to ensure the space is as versatile as possible. The space is well lit, with pot lights above in the loft, below in the kitchen, and track lighting in the main area.
It was an absolute pleasure to work on this project with Alexis Hogan, Jesse Campbell, and Joshua Ngenda.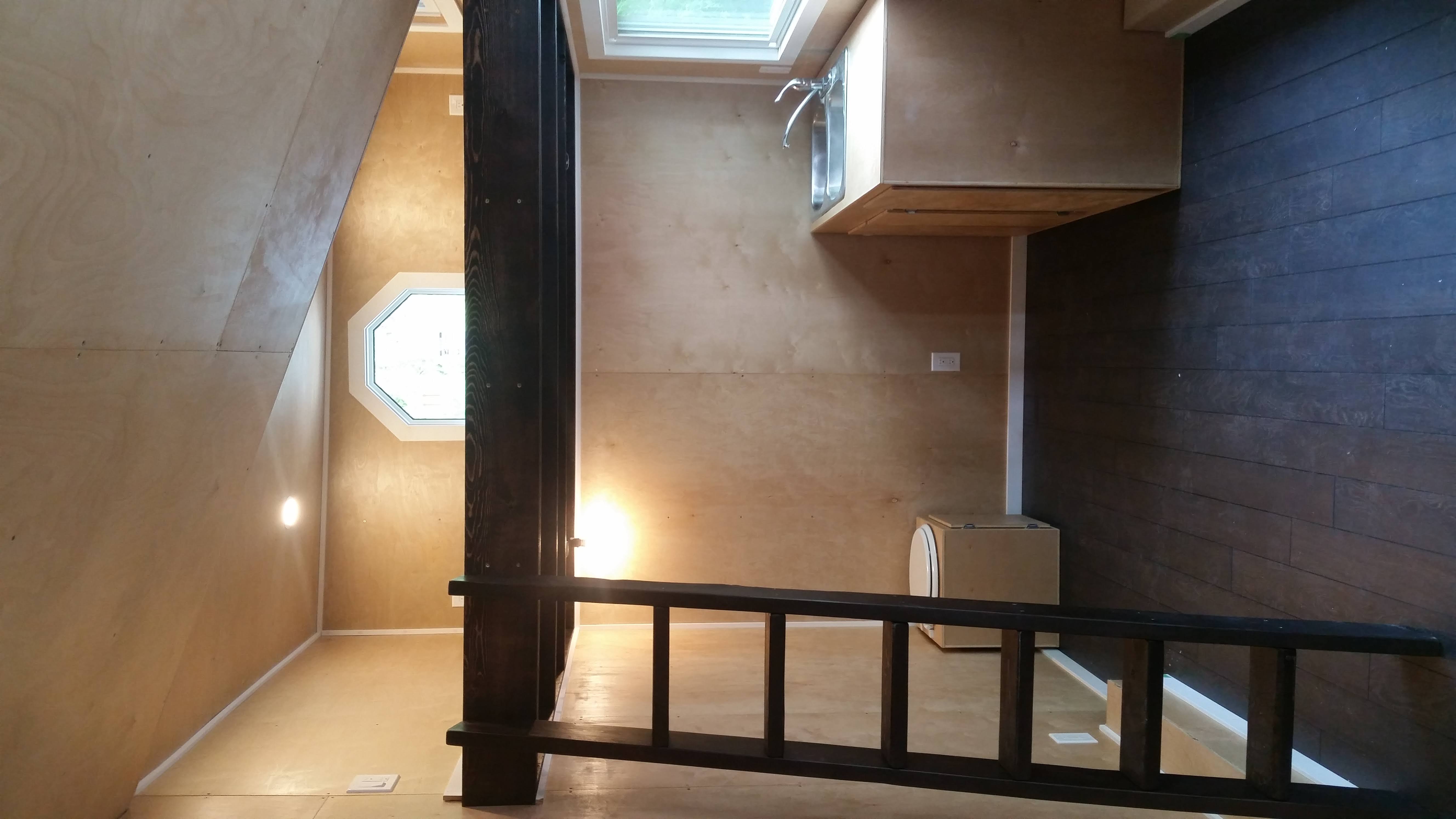 An interior view of the space, featuring loft, kitchen cabinet, and composting toilet